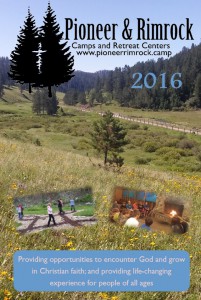 [button text="Download Now" color="theme" url="http://www.rimrock.camp/wp-content/uploads/2016/01/2016-RP-BROCHURE-PDF.pdf" target="_self" btn_block="no"]
The 2016 Pioneer & Rimrock Brochure has been released! You'll find more information on:
Letter from the Camp Director
Tiered Camp Pricing
2016 Winter and Spring Retreats
2016 Summer Camps and Retreats
Registration Information
Camper's Expectations
We are excited to share another wonderful season of camp at Pioneer and Rimrock camps and retreat centers with you and your children. Our camps are places set apart for people of all ages to experience unconditional love and truly be themselves as they grow in God's creation. We have all of our classic camp offerings this year, along with many new offerings. Whether you or your child chooses one of our traditional camps at Rimrock, or non-traditional camps at Pioneer, or any of the camps for adults and families at both locations, know that there will be fun, learning about Bible stories, trying new activities,, creating arts and crafts, and trained counselors to help mentor and    encourage a great experience along the way. Every camper will hike, share meals together, play outdoors, and grow in faith.
Our carefully selected and trained staff will be your child's guide for the week. They will safely monitor all activities, create opportunities for friendships to grow, and provide lots of creative and fun moments for your campers. Many of our staff members return year after year, gaining skills and experience each year. Our excellent kitchens will produce healthy and filling meals to keep everyone going to the next activities.
Coming to camp provides a time and a place to encounter God and grow in Christian faith. This year's theme is 'Fearless Faith: Courage in Community'. This theme will be the cornerstone of the biblical lessons throughout the week at camp. Each day has a scripture and theme that is incorporated into the overall week. At Pioneer and Rimrock Camps you and your child will grow confidence, have meaningful discussions, spend time outdoors, and try new challenging activities. Through these opportunities, we believe that you and your child will grow. Come grow and experience the passionate presence of God in our camp community.
In Christ,
Jason Wiedrich
Camp Director